Why Donate?
The Coronavirus outbreak continues to drive unprecedented challenges across the world. And while India has taken necessary measures to control the spread of the virus, the on-going nationwide lockdown has left underprivileged communities and their children even more vulnerable than before.
The immediate impact of the pandemic is visible with the mass migration of daily wagers who have lost their livelihoods. With no money to buy provisions and the absence of midday meals due to the closure of schools and ICDS centres, they are struggling to provide for their families – a situation that is not only causing unbearable hunger but also putting their children, who're already undernourished, at the risk of severe malnutrition. With lowered immunity due to such malnutrition and the lack of access to hygiene supplies and healthcare facilities, they are even more vulnerable to this disease.
At CRY, we've jumped into action to ensure that the communities we serve stay safe by distributing hygiene kits and dry rations in addition to spreading awareness on preventative measures and available medical facilities.
Our Relief Response
Our tactical relief intervention has been focusing on 3 key areas with the aim to impact 3.5 lakh underprivileged children and their families:
Dry Rations: Includes cereal, dal, oil, sugar, salt, potatoes and soy chunks to ensure basic nutrition for children and their families.
Hygiene Kits: Includes soaps, sanitizers, face masks, gloves, sanitary napkins and study materials in addition to protective gear and disinfectant supplies for government healthcare workers.
Awareness Generation: About preventative measures, recommended hygiene practices and information about available medical facilities and government schemes.
Status On Disbursals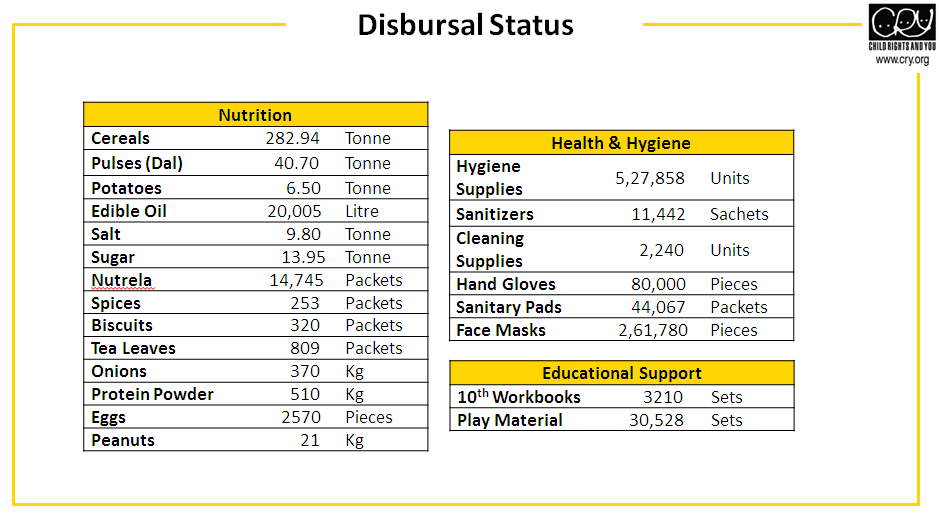 As of 6th July, 2020
Going The Extra Mile
Over and above our direct relief measures, CRY project teams and volunteers have been mobilizing communities and authorities alike, with the help of our partners and supporters, to take action for children at every level and ensure that relief packages reach the most marginalised families.
Here's a quick snapshot of the impact we've been able to create:
Migrant Worker Support
Helped migrant workers re-register with the PDS system and ensuring that their children are re-registered with Anganwadis and the education system as well.
Initiated the screening of migrant workers in Bihar, Karnataka and Odisha.
Advocated with the mayor and joint commissioner to ensure that migrant families in Mumbai and Bangalore urban slums received dry rations.
Advocated with the Gram Panchayat to establish a quarantine centre with 50 beds for returning migrants in Kandhamal district, Odisha.
Supported 202 migrant labourers in Maharashtra with cash transferred to their bank accounts.
Advocated with village Panchayats to enable 809 families in Uttar Pradesh and 1575 families in Chhattisgarh to find work under MNREGA and NTFP.
CRY projects spread awareness amongst 400 migrant labourers from West Bengal, Bihar and Uttar Pradesh in Madhya Pradesh.
Prepared a database of migrant workers from West Bengal, Jharkhand and Bihar and shared it with the district administration for provision of transportation to their native homes in Madhya Pradesh.
Collaborated with the Indo-Myanmar Friendship Labour Association to make a list of 131 migrant workers from Bihar and West Bengal in Manipur and shared it with the district authorities and MASLSA for their support.
Advocated with the district government to make provisions for quarantine and health checkups for migrant labourers as well as buckets, mugs, bed sheet, pillow and sanitizer for daily use during the quarantine period.
Supported migrant families in Karnataka, whose habitation was burnt by the land mafias, while the migrants were heading to the village, with dry ration for a month.
Hygiene & Healthcare
50,000 masks distributed to government-run mohalla clinics, government hospitals and police stations in Delhi.
Distributed masks amongst underprivileged communities as well as government healthcare workers in Odisha, Telangana and Maharashtra
Self Help Group (SHG) members, community volunteers and adolescent groups made low-cost masks for distribution amongst communities.
Several villages in Maharashtra were disinfected with the support of the Gram Panchayats.
Made provisions for water and soap at several places in villages across Manipur and J&K.
Disinfected 6 slums in Andhra Pradesh in collaboration with the government and distributed masks, cooked food, ration and vegetables to the inhabitant families.
Immunized 34 children, in spite of the challenges posed by the lockdown, in Kalahandi district, Odisha.
Supported 182 government healthcare hospitals/workers and 150 police personnel in Maharashtra with soap, hand wash and masks.
Supported ASHA worker and ANM workers in Haryana in the distribution of iron tablets and conducting immunization of children between 0-5 years of age.
Conducted health camps in Odisha villages to diagnose malaria and other related seasonal diseases.
Nutrition
Distributed food kits amongst 5000 vulnerable families in Delhi and Bangalore.
Cooked meals served to low income families through community/mobile kitchens in Haryana, Jharkhand, Delhi, Odisha, Madhya Pradesh, Rajasthan, Tamil Nadu and Gujarat.
Anganwadi workers in CRY projects distributed food grains in 10,000 centres in Manipur under the ICDS supplementary nutrition program.
Identified 7 severely malnourished children of the Korava nomadic community in Karnataka and provided them with supplementary nutrition food through nearby Anganwadi centres.
Distributed milk and biscuits to 1860 children between 0-3 years throughout the urban slums in Jamshedpur.
Distributed 5 kgs of vegetables, including tomatoes, brinjals and cabbage, among 600 scheduled tribe families in Andhra Pradesh.
Supported 2410 families in Maharashtra, 438 families in Jharkhand, 50 pregnant/elderly individuals in Delhi, 1000 families in Tamil Nadu, 1490 families in Gujarat, 44 families in Chhattisgarh and 460 families in Karnataka with dry rations.
Provided food kits to 700 Amphan affected families in 4 villages under West Bengal's Purba Medinipur district.
Conducted home visits in Madhya Pradesh to advise parents of new born children on their care and the creation of kitchen gardens that could help address their nutrition needs.
Distributed ration kits to 2000 families in Kalaburagi, Karnataka and 160 families in Bangalore's urban slums, in partnership with the Azim Premji Foundation and the BBMP and the Labour Department respectively.
Awareness
Conducted awareness campaigns in Manipur, Delhi, J&K, Madhya Pradesh, Andhra Pradesh, Karnataka, Delhi, Gujarat, Tamil Nadu, Odisha, Maharashtra, Chhattisgarh, Assam, Uttar Pradesh, Telangana and Rajasthan.
Conducted an awareness campaign through IVR set in mobile phones in Odisha and Bihar in collaboration with Gram Vaani.
CRY volunteers virtually shared government and WHO guidelines on Coronavirus with underprivileged communities and their children.
Developed and circulated IEC materials in regional language across villages.
Initiated wall paintings with slogans to spread awareness on Coronavirus in Chhattisgarh and Delhi.
Held awareness and counselling services amongst pregnant women and lactating mothers in Madhya Pradesh villages on precautions to be taken during the Coronavirus outbreak.
Enabled tele-counselling and voice messages via WhatsApp to ensure that children in Kolkata slums and red light areas feel supported and have all the information on Coronavirus.
Held awareness sessions using webinars on menstrual hygiene for adolescent girls in Odisha, Madhya Pradesh and Andhra Pradesh.
Advocated with community heads and religious leaders in Jammu & Kashmir to spread awareness about social distancing using mosque loudspeakers and WhatsApp groups.
Conducted door-to-door awareness programs across 6,238 underserved households in Maharashtra, Andhra Pradesh, Odisha, Rajasthan, Haryana and Gujarat on preventative practices like practising social distancing, wearing masks and washing hands.
Organized puppet shows and put up posters to spread awareness in J&K.
Painted women helpline numbers village walls in Haryana, where community gatherings usually take place, to create awareness on the issues of violence against women and children.
Advocacy
Enabled district officials to reach children's homes and orphanages with food and other essentials in Manipur and Chhattisgarh.
Advocated for the Ministry of Women & Child Development to implement the supply of supplementary nutrition food to all Anganwadis in Karnataka.
Demanded a waiver on private school fees during the lockdown through a formal submission to the SCPCR, District Magistrate and District Education Officer in Uttar Pradesh.
Initiated the provision of ration based on Aadhar card for those who do not have ration cards in Telangana with the Mandal Parishad Development Officer and the Mandal Revenue Officer.
Advocated with the Rajasthan State Commission For Protection Of Child Rights to provide sanitary napkins to adolescent girls through Anganwadi workers.
Advocated with the district collector to provide 360 Devdasi families in Karnataka with dry rations.
Advocated with the Manipur Human Rights Commission and enabled the distribution of mid-day meals to 1.5 lakh school children.
Advocated with multiple stakeholders in Karnataka to ensure that 300 poor families received ration kits from BBMP, 3200 Anganwadi workers received masks, gloves and sanitizers, 50 nomadic Buduga Jangam families received rations, 75 underprivileged families received ration kits from MLA fund and 47 nomadic families living on the Kotari roadside received ration from Anganwadi centres.
Advocated with the health department to ensure regular immunization, irrespective of the lockdown, for 450 children and pregnant women from Damoh district in Madhya Pradesh.
Connected 24,553 underprivileged families in Madhya Pradesh, Maharashtra, Andhra Pradesh, Chhattisgarh and Gujarat to social security schemes like Jan Dhan Yojna, Kisaan Sammaan Yojna, Garib Kalyan Yojna, Shravan Bal Yojna, free rations through PDS system, Nilambar Pitambar Jal Shrot Yojna, Birsa Harit Gram Yojna & Ujjwala scheme.
Provided 54 Anganwadi workers across 21 government hospitals with soap & masks and distributed sanitary napkins amongst 478 adolescent girls.
Helped 84 children get immunizations and 72 mothers get antenatal care, in spite of an overburdened public healthcare system, in Odisha.
Submitted a letter to the SCPCR to demand hand washing stations in schools, free sanitary pads for adolescent girls and mid-day meal rations to children's home in Uttar Pradesh.
Submitted a request to the District Health Officer in Karnataka for conducting proper health check-ups as well as providing masks, sanitizers and soaps to frontline government healthcare workers.
Advocated with the education department in J&K to transfer midday meal money into students accounts and with J&K Bank to arrange mobile ATM vans for communities.
Advocated with the animal husbandry department to provide 35 families in Jakhnaud Village, Madhya Pradesh with chicks to aid income generation.
Helped 2473 children with take home rations through Anganwadis and midday meals through schools in addition to providing supplementary nutrition to various communities in J&K.
Education
Conducted online classes on WhatsApp for children in the Bandipora and Baramulla districts of Jammu & Kashmir to help them continue learning.
On observing declining attendance of children in online classes due to lack of enthusiasm of the teachers, advocated with the ZEO and school authorities to address the issue.
Conducted peer-to-peer online learning sessions on academic subjects, arts and crafts etc. for underprivileged children with the help of CRY volunteers.
Held online summer camps and learning sessions, with the help of CRY volunteers, to help children from CRY project areas in Bhopal, Mumbai and Chandigarh continue learning.
CRY volunteers organized a virtual Q&A session for children from CRY project areas with Alfink College in the Netherlands.
Initiated the process of virtual learning for children in CRY project areas through eVidyaloka with the help of CRY volunteers.
Held online learning sessions, with the help of CRY volunteers, to help children in Bhopal, Mumbai, Dwarka, Gurgaon and Chandigarh continue learning.
Tutored 50 children through home visits in Odisha's tribal districts.
Conducted online classes for children and adolescent girls on menstrual hygiene, making facemasks and hygiene protocols in Madhya Pradesh using mobile phones and tablets provided by CRY.
Conducted a meeting with the Adolescent's Collective in Karnataka on SSLC exams preparation.
Enabled the functioning of Child Activity Centers in two Uttar Pradesh villages to help children resume their studies.
CRY volunteers helped digitize the syllabus for 4th grade & 5th grade in collaboration with a school in Kolkata to facilitate e-learning for students. They also created educational content in regional languages to help children in CRY projects continue learning and conducted one on one online classes with a few of them as well.
An Appeal For Help
It's going to be a long road ahead and we need YOUR help.
Support our fight against the lasting impact of the Coronavirus outbreak on India's underprivileged children and help contribute to the larger solution that could give them a brighter future.
Join the movement and contribute to the solution – donate to CRY today.
Disclaimer: The donation options shown are meant to illustrate the change your donation can make to the lives of children. The funds/donations raised by CRY will be pooled together and allocated to suitable child-related endeavours depending on the need on the ground.