If you haven't been able to answer any of the questions mentioned below, know that NONE of these problems have a solution. YET.
The reality of underprivileged children in India is that problems of child labour and child marriage come in the way of them completing their education and chasing their dreams even before the pandemic. Not only do they rob them of their childhood but also the chance at a brighter future.
Even before the pandemic, India had 33 million child labourers and 15 million child brides. The ongoing pandemic led closure of schools in India for almost over 2 years has robbed millions of children of the opportunity to learn and develop many important life skills. It has also affected children's ability to cope with their studies, especially those from underserved communities. If not addressed in time, it can lead them to discontinue their education permanently by dropping out of school – leaving them highly susceptible to child labour, early marriage, sexual abuse and child trafficking.
At CRY, we are working tirelessly to protect such children and help them continue their education by focusing on –
Conducting classes for children in villages through digital tablets and with qualified teachers
Providing study sessions that will supplement classroom learning once schools reopen
Through the Bridge Learning initiative, we have set up 181 study centres across 307 villages in 15 states and reached 24,793 children so far. But there's still a long way to go and we urgently need your help.
Your generous donation to CRY will go a long way in ensuring that the most vulnerable children are not the biggest victims of the pandemic and get you 50% tax exemption under section 80G of Income Tax Act.
Let's come together to ensure learning continuity for India's underprivileged children and help them pave their way to a better future. Donate today!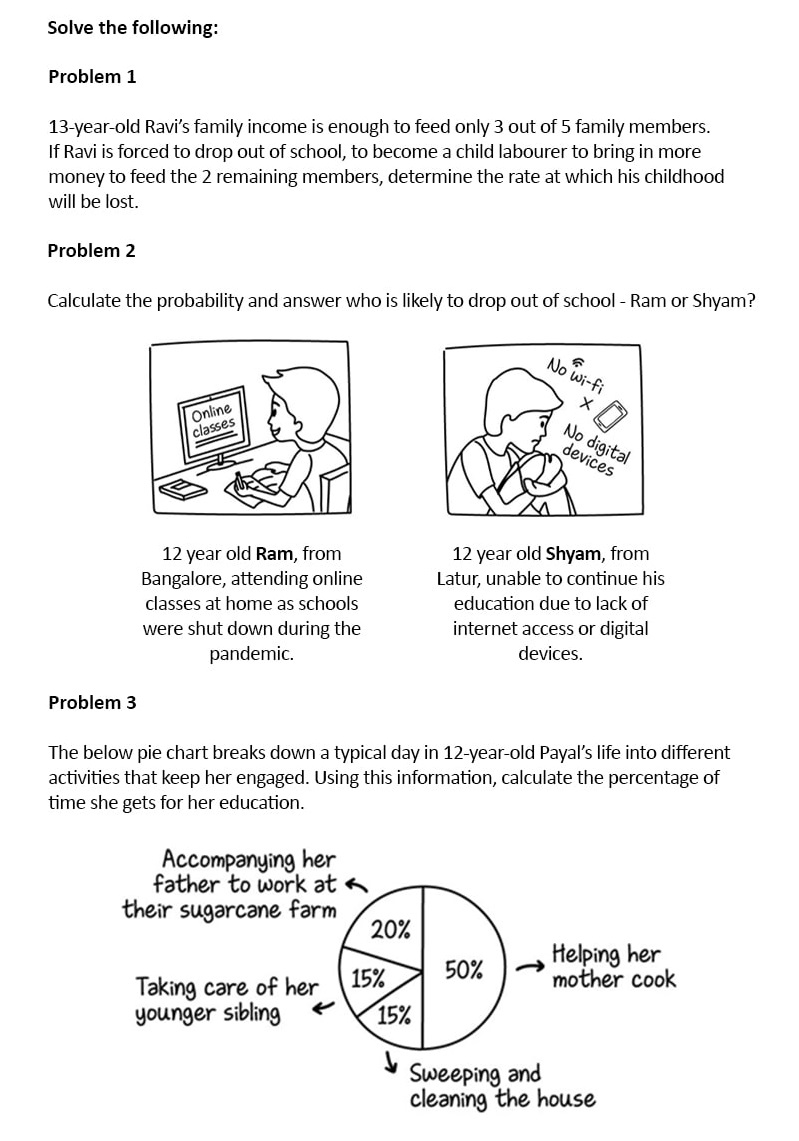 Disclaimer: The donation options shown are meant to illustrate the change your donation can make to the lives of children. The funds/donations raised by CRY will be pooled together and allocated to suitable child-related endeavours depending on the need on the ground.
Making an impact by working together
"The impact that CRY is creating in the lives of underprivileged children has continued to reaffirm my faith in what they're trying to do and achieve. I'm proud of this organization that has moved mountains for India's children!"
Mrs. Perviz Noshir Damania
"I have been donating to CRY since so long! The problem before CRY is Himalayan and my contribution to CRY is like a drop in the ocean. But I am happy that I'm able to do something towards building our nation."
Mr. V.C. Verma
"CRY helps identify children's issues and encourages individuals to partner for the cause. That's what makes their model sustainable. I am sure that CRY will go a long way in mitigating the hurdles faced by underprivileged children."
Mr. Neelakantan Sekar
"My search for trusted Indian NGOs brought me to CRY. What CRY does to ensure every child's right to nutritious food, education, health and protection from exploitation is truly commendable. I'm sure that CRY will continue its good work and that one day, we will see our nation truly upholding children's rights!"
Ms. Veena Thimmaya
"I have great trust that CRY's initiatives will bring about a change in children's lives and this is what makes me donate to them. It has been a great pleasure to be associated with CRY over several years and I hope to continue well into the future in as big a way as possible."
Ms. Kalpana S Raj
"I feel so blessed to be associated with a great NGO like CRY. It has done pioneering work to uplift underprivileged children in the areas of education, malnutrition, health and safety. I am glad to have been a small part of their work."
Mr. Anant Thyagaraj
"CRY, to me, signifies an excellent way to give back to our society and our country. It represents trust and competence in dealing with children's rights. I believe that there are very few organisations in India which match CRY's calibre and that's the reason for my continued association with CRY for over a decade now."
Mr. Sandeep Sahney
"I feel that it's my duty to help unfortunate children who are not getting their basic rights. I feel CRY is doing their best to help these underprivileged children. I'm sure all my donations will bring lasting change for the bright future of these children."
Mr. Prabhakar Marathe
"I admire CRY's innovative idea of reaching out to more underprivileged children by partnering with and empowering local NGOs across India. CRY gives me hope for India's future."
Mr. R Chhapwala
"CRY is so much like the wee defenseless children that they champion. The organization is most at ease when helping underprivileged children, they are happy when they succeed and uncomfortable with the limelight. I contribute to CRY to ensure that this noble work continues!"
Mr. Seby
"CRY inspires our society to listen and respond to the needs of underprivileged children. I'm proud to be a CRY donor and helping them change the world; one child at a time."
Ms. Nilmoni Mitra
"Children are our future, our charge and treasure, They need our protection and care in full measure, To help them grow healthy, aware and educated, And win a place in the world is a privilege and a pleasure"
Mr. Rajul Sogani