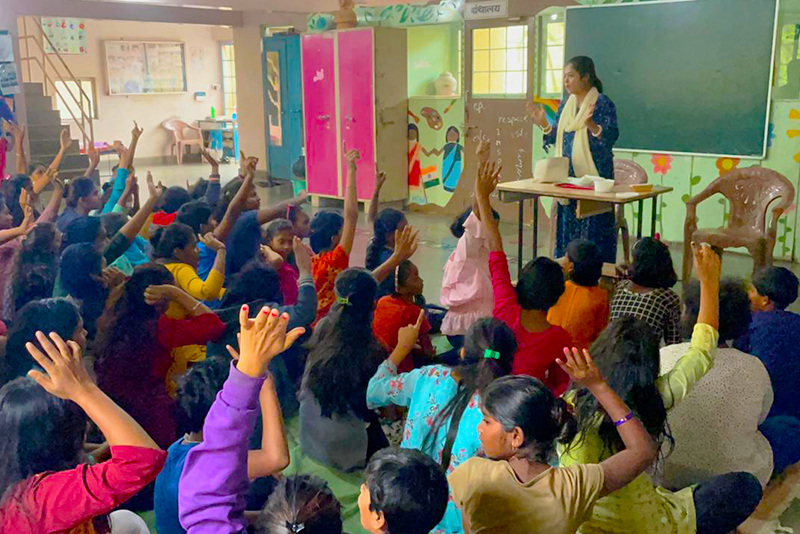 When a child is born – from birth till death - they pass through various stages of growth and development. Adolescence is one such stage. Girls get their period by the time they reach their pre-teens. It is the first step towards preparing a girl for motherhood. A period is a natural, normal process that is a part of growing up but it is turned into a social phobia. Even in the 21st century, periods are associated with ignorance, taboos, shame, myths and misconceptions. Patriarchy, gender inequality, illiteracy, social, cultural and religious practices and poverty play an important role in enforcing period shame and period taboos.
For some people – period blood is considered impure. When a woman's body sheds blood which was meant for procreation - the focal point for the survival of mankind – how can it be impure or dirty?
Due to a lack of awareness about menstrual hygiene practices, lack of clean toilets and inaccessibility to sanitary napkins, 23 million girls drop out of school annually after they start their period according to a 2014 study by DASRA. To make adolescent girls take care of their reproductive health and make informed decisions about their period, it is imperative that awareness is created among them about menstrual hygiene practices and the negativity surrounding it must end.
To overcome the negativity surrounding the period in India – CRY launched a campaign in September 2022, #LetsTalkAboutPeriods. The purpose of this campaign was to encourage girls to talk openly about periods as a normal body function, to understand the science behind them, to practice menstrual hygiene practices, and to take a healthy diet. With this campaign, CRY reached over 10 crore people through various offline and online awareness activities and encouraged them to come together to break the myths and shame around periods! In Mumbai, the menstrual hygiene sessions were conducted in over 32 BMC schools where we could reach over 1700 girls. We hope this will empower girls with positivity, education and good health. The following example highlights the result of CRY's campaign on the issue:
Deepa (name changed), a student of Class 8, attended a session conducted by CRY in Pune. The session was so successful that she used her new knowledge and awareness to explain the concept to her younger sister Sakshi about periods and how to manage them with confidence.
This sharing and transfer of knowledge were one of the positive impacts of the campaign in the right direction. The faces of the participants beamed with confidence after attending the session as if they had overcome a significant barrier, got answers to all their queries and they are ready to conquer the world.
A period is an important aspect of women's life - where ignorance is not bliss. A girl must be taught to manage her periods with dignity.
You can also join us in our effort to end period shame by raising awareness and improving the support system for our adolescent girls. Take a pledge to #LetsTalkAboutPeriods openly. Your support will enable young girls to realise their full potential and have a gratifying effect on their lives. Donate to CRY today!

*Based on views expressed by our volunteer Samira A.